Activities
Winter and spring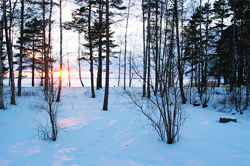 Pyhäjoki village in Säkylä and Virttaa boreal forest offers you fantastic opportunities for all kind of wintersport. You can, for example, enjoy trips with snowshoes to the beautiful lake Pyhäjärvi, ice-fishing, skiing, ice surfing, winter swimming and other winter activities. For those who love ice fishing or want to try something special, Pyhäjärvi offers excellent opportunities to catch pikes, whitefish, breams, burbots, trouts and of course big perch.
There is well attended and illuminated ski and hiking area at the Virttaa forest. The network of skiing courses is 26 km long and partly illuminated. Along the way there are many places where you can take a break, grill sausages and enjoy the view and peace of nature. There are seven starting places in the area, which you can also reach by car. If you stay at Virttaa cottages, ski track starts right from your doorstep. In the spring time there are a few coffee kiosks along the way, which sell warm juice and hot chocolate.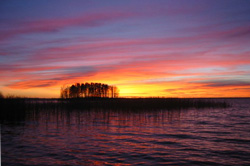 Summer and autumn
At the Virttaa forest there is a great outdoor recreation area. Area is called Harjunreitti. In the autumn you can gather berries and mushrooms in the woods. Just open the door and you will see a lot of lingonberrys to carry.  Or you may take part in the big hiking event together with thousands of other participants. Hiking event is called Huovinretki.
You can also buy fishing trips for one hour or for the whole day. The beach in front of Koivuniemen Tila is sandy and water is shallow; perfect also for children. The yard is bright - made for sunbathing, barbeques and games. In the evening it's amazing to go out and cool down after sauna and enjoy the beautiful sunset. There is also a golf course, Alastaro Golf, nearby. It is the longest course in Finland (6685 meters).
About 5 km away from Villa Lotta is also a disc golf course with 18 holes. Course was opened at spring 2009. Course is located in dry boreal forest so it is ideal in all weathers. Allthough it is very challenging too.
Alastaro Circuit

It only takes 15 minutes to drive to Alastaro Circuit, which is the biggest and most modern motor sport area in Finland. Besides the motor raceway, there are track also for auto cross. In the summer there are lots of things to do and see every day. The circuit offers local and international races almost every weekend from May to September. On a special track you can practice your own driving - with permission, of course. There is a beautiful and quiet little spring just one kilometre from the race area, ideal for picnic or sun bathing. There you can swim during race breaks or after golf tournament.