About us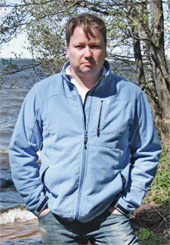 Koivuniemen Tila is a family farm in Pyhäjoki-village in Säkylä. The farm has been in the family for more than 100 years. The farm is altogether 9 hectares in size. Timo Mäkelä's great-grandfather, blacksmith Vilho Mäkelä, moved the main building, made of logs, to it's current location in 1925 and moved there to live and farm land. The farming has now stopped since it was no longer profitable. The farmlands are rented out.
Nowadays the main focus is in cottage rental. We have 2 cottages for all year-around renting. One of them is located in Pyhäjoki and the other one at the Alastaro racetrack area. In addition to this we help out other cottage owners to find guests for their cottages. Some of these cottages are also presented on this website.
The rental business was started in February of 2002. Rental business is ran by Timo Mäkelä and the rest of the family is involved in other ways, like in maintenance and service.
Pyhäjoki as an area is part of historic landscape and a well-preserved area. On the grounds of Koivuniemen Tila there are lots of rich scenic landscapes. The road to the cottage is surrounded by an alley of trees. Behind the cottage there is a beautiful hazelnut grove. There are aspens, spruces and birches on the lot, as well as different kinds of hazel shrubs. On the way to the village you can see some old buildings in their original form.
Why choose us?
Clients are very important to us. We are interested in their needs and opinions and how did we succeed. We always send customer feedback inquiry after vacation. Based on inquiries we make all the possible changes and repairs needed. Cottages are designed and furnished mainly based on customer feedback. If you have concerns either to the marketing, driving instructions, or cottage itself, we care.
Our pricing is based on the idea that the client will come back again.
We also consider environmental effects.